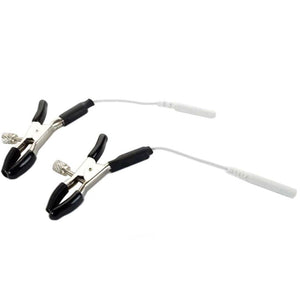 Electrify your nipple play with our Electro Stimulation Adjustable Nipple Clamps! These electro nipple clamps can take your sensation play to a whole new level.
Our Electro Stimulation Nipple Clamps are not your ordinary sex toys for your precious nipples. These coquettish devices stimulate the nerve endings of your nips. They also provide different waves of erotic bliss; thus, leading to better nipplegasm.
Our Electro Adjustable Nipple Clamps are made from stainless steel. This material does not only provide a cooling sensation onto your dom poms, but it also creates greater electrodes. This current is sent onto your sensitive chest raisins, which reawakens all the nerve endings.
Not only that; our Electro Stimulation Adjustable Clamps can also improve the responsiveness of your tits.
When you pinch your boobnobs using these electro nipple clamps, they block the blood from rushing through your papayas. This causes numbness and pain onto your chest area.
But when the nips are released, the blood flows through them, making your titties hard and responsive to hand and tongue strokes. This gives waves of sexual pleasure, making you cum more.
Our Electro Adjustable Clamps are ideal for couples' play. These electro devices can be used for inflicting pain and pleasure to your lover.
The clamps can also be used during masturbation. Just pinch your nips with these clips, then turn them on to feel the rush of electricity onto your boobs.
Alternatively, you can use one clamp on your boob and another one on your clit. We guarantee you; your hot and milky cum will squirt because of the buzz sent to your sensitive spots.
Power up your erotic games with our Electro Stimulation Adjustable Nipple Clamps! Order these clamps now and have the most electrifying, cum-exploding sex of your life.
Specifications
| | |
| --- | --- |
| Color | Silver |
| Material | Stainless Steel |
| Type | Electro Nipple Clamps |
| Dimension (inches) | |
| | Length: N/A |
| | Width: N/A |
| | Weight: N/A |