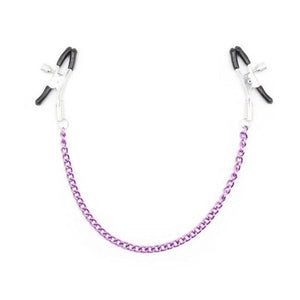 If your usual nipple clamps do not challenge you anymore, then it's time to upgrade to our Sexy Purple Chain Nipple Clamps for Couples. Its elegant chain will captivate your eyes, but its clamps will give your nipples some proper pinching as it prepares you for some amazing stimulation. We celebrate your beautiful body. However, if you want to add a little something extra, We are here to support you.

Our stunning nipple clamps will decorate your beautiful naked body as you receive some pounding from your loving partner. This toy combines the elegance of a necklace and the kinkiness of nipple clamps to give you the best experience.

What you will receive is a pair of clamps that are both attached to a chain for additional weight. The chain also doubles as a piece of neck jewelry in a purple finish. The crocodile clamp tips are covered with silicone rubber to keep you comfortable while they are on your nipples. Each piece is made of high-quality metal and polished to achieve a shiny look to make it a perfect accessory even when you are naked.

Whether you enjoy having some alone time or adore sharing intimate moments with your partner, our Sexy Purple Chain Nipple Clamps for Couples will be a great addition to your collection.

Remember that it's highly recommended to wear the clamps on erect nipples. So, get your partner's tongue to work and get them licked and sucked until you moan with pleasure. Then, it's time to wear the clamps for a few minutes or until your teats get numb. However, you can always put them back on when needed.

Don't wait until everyone finds out! Add one to your cart now, and start enjoying this Sexy Purple Chain Nipple Clamps for Couples.
Specifications
| | |
| --- | --- |
| Color | Purple |
| Material | Metal |
| Type | Nipple Clamps with Chain |
| Dimension (inches) | |
| | Length: N/A |
| | Width: N/A |
| | Weight: N/A |