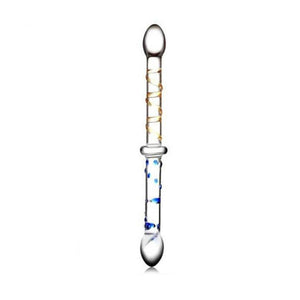 Here's a long, crystal clear glass blissfully constructed to hit your love spots. Introducing, the Masturbation Weapon Double Headed Dildo! This probe features two glass dildos in one.

Made to provide optimum stimulation, this double-ended dong has tapered tips on both ends. Not only do these heads offer comfort to the wearer; they ensure you reach the elusive O whenever they hit your erogenous zones. These tips stimulate your nerves in your intimate areas. That way, you can feel every touch, massage, pinch, kiss, suck, and nibble that you or your partner does to your body.
Additionally, this dildo features an uneven finish throughout the shaft. The first half has ribs while the other half has bumps. Both textures provide a different kind of sensation inside your love cave or prison purse, making each thrust count. With these features, you'll get to release the heat in you in no time!

This elegant-looking dildo is also safe to use. This erotic bedroom tool is hypoallergenic and non-toxic, which means you can shove it in and out of your core without health risks. You only need to lube it up or use a condom for a smooth glide.

It's also non-porous, which means cleaning this adult toy is a snap! You can bleach or boil it for total sterilization. You can even put it in the dishwasher and let the machine clean it for you. Once done, you can put it in a cool, dry place to keep its condition or use it again and start the action!

With all these fabulous features, you have no reason to look further than this. Go ahead and get this Masturbation Weapon Double Headed Dildo and take your sex play to a new level of erotic bliss!
Specifications
| | |
| --- | --- |
| Color/Type | Clear |
| Material | Glass |
| Dimension | Length: 10.63 inches |
| | Width/Diameter: 1.18 inches |