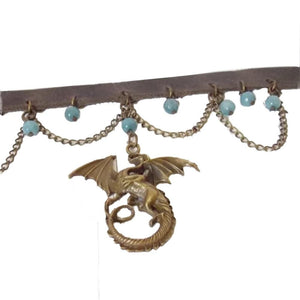 Even the mother of dragons, Daenerys Stormborn Targaryen, had her weakness—Aegon Targaryen, also known as Jon "The Bastard" Snow. She might have defeated other realms and castles, yet she ended up sweetly surrendering to a man.

Don't worry. We'll not go as far as the morbid deaths like what happened in the series. Instead, we'll focus on the fun thing instead—the submission and the surrender of Dany to Jon.

If you feel like you and the Unburnt have a lot in common, you might as well get your dragon! And where else can you get it? Well, look at this Cool Dragon Leather Choker Collar, perfect for a self-proclaimed queen who's willing to submit in the end, like you!

This intricately-designed collar boasts PU leather on its strap, small dangling metal chains and blue beads curtained to the edges, and a golden dragon pendant at its front. You know it's a quality product when the design itself is already as beautiful as this!

So what's in it for you to buy this collar? Aside from the aesthetics that it brings your dull outfit, this head-turning accessory can be used as a commitment attire. Wearing one is like wearing a wedding ring—it's a promise of your submission and obedience to your partner, hence the introduction.

So, if you wear it for fashion, that is fine as well. If you wear it as an acceptance to be under your man, then you have to abide by the rules set forth the master-slave or the submissive-dominant agreement.

Before entering such a contract, define your limits and boundaries. This way, you could have a healthy relationship with your partner. Once through setting the right expectations with your man, live your fantasy to be enslaved by him! Follow his orders and capitulate to his dominance!

However you want to use this choker, the discretion is entirely yours. Use the Cool Dragon Leather Choker Collar to zest up your style! Grab one now!

Color

Strap: Black
Pendant & Chain: Gold
Beads: Blue
Material
PU Leather
Zinc Alloy
Dimension
Length: N/A
Width/Diameter: N/A