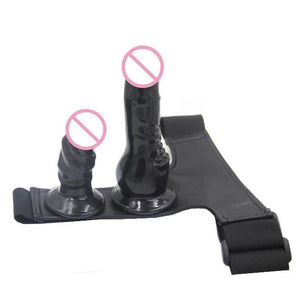 Wish to have a threesome or a foursome? But wait…you don't want to share your lady with anyone else. You want her and every inch of her body all by yourself. But you can't also give each other's needs because you don't have that part that can fill her and you up inside.

Fortunately, there's a solution to this problem. All you need to do is grab this Get Fulfilled Black Double Ended Strap On! This love tool lets you stuff your pussy while stuffing your partner. It's a win-win situation for both of you.

The product features a comfortable harness, two lifelike dongs with hollows at the base, and two attachments. All these tools make strap-on sex more fun and exhilarating!

The harness has a front panel made of PU leather and straps made of nylon and a buckle on the side. These features provide comfort for the wearer and make thrusting easy. Meanwhile, the dildos have knobby penis-shaped heads with wrinkly bodies. The bulbous tips target you and your honey's g-spots, while the textured shafts make each thrust count.

Then, there are attachments. These accessories hold the probes in place so that they don't fall off in the middle of the intense action.

Ideally made for two ladies, hetero couples can also use this pleasure tool. They can do role reversals and let their women be in control of their activities.

But before anything else, you need to make sure that they are clean. Wash the dildos—and the attachments—with soapy water and rinse them thoroughly. Pat them dry, attach these dongs to the harness, lube them up, wear the gear, and start the thrusting party! Once done, clean them again and wash the harness in a washing machine at a cold temperature, and hang it dry. Store them in a cool, dry place away from other toys and prying eyes.

Fulfill all your dirtiest and naughtiest needs. Grab this Get Fulfilled Black Double Ended Strap On now!
Specifications
Color
Black
Material
Strap On - PU Leather + Nylon
Dildos - TPR

Dimension
Length:
Interior Dildo - 5.51 inches
Exterior Dildo - 6.69 inches
Width/Diameter:
Interior Dildo - 1.18 inches
Exterior Dildo - 1.46 inches