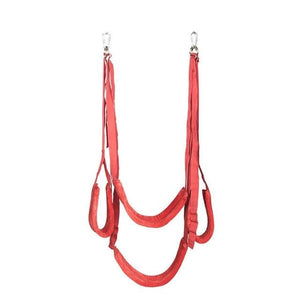 You're an outdoor enthusiast, a traveler, and it's always your goal to have sex with your partner wherever you go. However, lately, fucking-and-going from one place to another has been a routine; there's no thrill anymore at all.

If you want something that will fire up your conventional humping session, then let the Hanging Bondage Portable Sex Swing accompany you on your travels out of town. Turn your ordinary hotel door jamb into a magical portal to the land of lust and utopia of limitless sexual positions!

This sex swing uses sturdy and high-quality nylon in its straps, which can be suspended to a beam that can be mounted across the door jamb. The suspender has a cushioned seat, arm and leg collars to ensure that your partner's wrists, arms, legs, and thighs are comfortable and well-placed while on suspension.

The entire mechanism can support up to 220 pounds, so watch your partner's weight before riding on this swing—it's for your safety!

With this sex furniture's portability comes its ease of installation. However, you need to ensure that the door frame is firm and strong enough to support intense actions—a solid wood jamb is suitable for this occasion.

Extend the beam to the door's width and attach it to the side frames, ensuring that the bar's ends are tightly intact.

Attach the carabiner to the rings on the beam, then adjust the swing's height if necessary. Let your woman ride on it, and restrict her movements by resting her legs and arms onto the collars.

Now it's showtime—fuck her all you want—twist and turn, do the hanging sixty-nine, the wheelbarrow, the swinging cowgirl, and many more

And after exhausting the furniture, rest for a while, then uninstall it from the door jamb. Roll the straps to the beam and take it home with you; you can reuse it! Once home, wash it with water and skin-friendly soap, then dry it before hanging it in your cabinet.

If leveling your performance up is what you're looking for, then the Hanging Bondage Portable Sex Swing is here to help you out. Get one now and start trying all the sexual positions that you want!

Color
Red
Material
Nylon
Metal
Sponge
Dimensions (inches)
Beam: 25.59-33.46 inches (65-85 cm) and 33.46-41.34 inches (85-105 cm)
Length Adjustable
Width Adjustable
Maximum Load Bearing Capacity 220.46 lbs (100 kg)