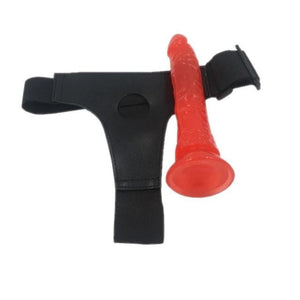 Plunge into the richness of sexual pleasure with the help of this kinky accessory. Take dominance and fill your partner's need whenever, wherever. With this lustrous Beaver Basher 8-Inch Red Strap On, you will look fiery and make your bedroom routines more intense and explosive.
They say that red symbolizes sexuality and intimate passion. Show your lover how deep your sexual desire is. Make her feel your burning lust by waving your big red dick during foreplay. Wear this Beaver Basher 8-Inch Red Strap On with confidence, and watch your partner's eyes glimmer.
This G-string style strap on will help you wear a fake rubber penis between your legs, empowering you to have the ability to provide deep mind-blowing penetration. The straps around the waist and groin area are stretchable and adjustable, so it fits most sizes. Right at the front is a hole that will hold the dildo's base and keep it in place throughout the night.
The cherry-colored dildo's material is PVC, so it is highly flexible and feels lifelike too. It's also massive and satisfying, with its dimensions measuring 8.27 inches by 1.38 inches. Like a fully-erect penis, it has a bulgy head and veiny phallus.
Red can trigger someone's hunger, so expect your partner's sexual appetite to increase once he or she sees this deep red dildo. You can also enjoy this during your me-time. Remove the dildo from the strap and use it to feed your carnal cravings. But of course, whether you intend to use it during masturbation, vaginal or anal penetration, you still need to apply lots of water-based lube to make the insertion and entire experience more satisfying. Always wash it with warm water and anti-bacterial soap to keep it clean.
Make your partner hungry for more! Hit that "Add to cart" button right now!

Specifications
Color
Harness: Black
Dildo: Red

Material
PVC
Dimension
Length: 8.27 inches
Width/Diameter: 1.38 inches